Question:
My computer is overheating and I think there may be a problem with the fan. I bought a cooling device to place underneath the computer, however, the computer still overheats. Do you have any suggestions?
Answer:
It sounds like your fan is not working properly. Cooling devices can assist your laptop but can't get close to doing the same kind of job as the internal fan does. I'd suggest bringing your laptop in and we can run some diagnostics and replace the fan for you if necessary.
The issue may also be a dust blockup inside the fan. If you have a can of compressed air, trying puffing some air directly into the fan and remove the blockage. If this does not help, we can take a look to see if it is a more serious issue.
Have a Question for Doctor Z? Email doctorz [at] laptopmd [dot] com and we'll help you out!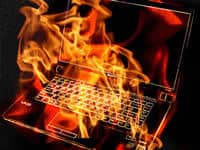 Leave a Reply
You must be logged in to post a comment.