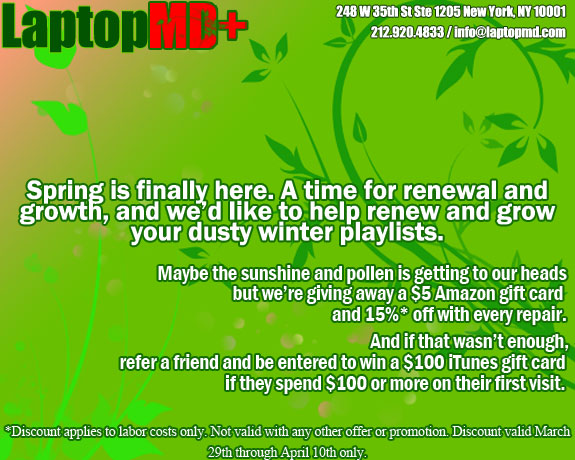 Well, it looks like the warm weather and excessive pollen count have driven us completely nuts. So in honor of our new-found liberation from both sanity and the cold winter weather, we're giving away $5 gift cards to Amazon.com with every repair. Oh, and did I mention that every repair also gets 15% off the cost of labor? 15% off AND a $5 gift card. Pretty amazing, right?
Well, hold on tight, because I'm just getting to the best part: If you refer a friend, and they come in and get some work done with us, you're automatically entered to win a $100 iTunes or Amazon gift card. Refer two friends, get two entries. Three friends? Well, you get the idea. The only caveat is that your referrals have to spend at least $100 with us on their first visit. The more people you send, the higher your odds of winning. And if you're really sneaky, you can refer yourself and get that $5 card AND a chance to win.
This promotion is going to be running until April 10th, so hurry before time runs out or we regain our senses.
Leave a Reply
You must be logged in to post a comment.