Water Damage Repair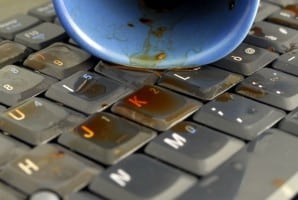 Cats, Leather, Mogwai, and Computers. What are things that don't get along with water?
Few people have been lucky enough to get through their whole life without spilling something on their computer or phone. As much as we warn people not to bring liquids near their devices, it's inevitable that liquid damage still happens. In fact, spilling a glass of water on your laptop while working is the least of what we see. Just some examples from the last couple of months:
Jumping into swimming pools with their cell phones in their pockets
Having beer spilled on your laptop bag at the bar
Working at a restaurant and spilling soup all over your laptop
Going boating without waterproofing your electronics
And that's just a couple that stand out. But don't worry, there's no need to panic if you spill water on your phone or laptop. So what do you do if you get water on your electronics? First, disconnect the power, and remove the battery. Cutting off the flow of electricity will prevent the worst possible damage, burned out circuits and components. Then, turn your device upside down and let it drain on to some paper towels. Once most of the water is out, you can either open it up and dry off what remains with paper towels and a hair dryer (set to low heat!), or if it's a cell phone or PDA you can put the device into a small tupperware container and cover it with rice. The rice will remove moisture from the device and get it dried out in no time. Note: even if you find a large enough box and have a LOT of rice, we don't recommend putting your laptop in it. It's just not a good idea.
The other important thing to keep in mind is that not all liquid damage is created equal. Water, for example, causes the least amount of problems. Since it's mostly inert and dries off completely, it is unlikely to do major damage provided you follow our suggestions. Next up on the list are flavored beverages without a lot of sugar. Things like seltzer water or unsweetened tea. As the sugar and general thickness of a liquid increases, the odds of it doing damage also greatly increases, because they have the risk of forming a layer of deposited crud on your electronics' components. Worst of all is anything with a high salt content like sea water. Salt is highly corrosive to electronics, and unless it is cleaned off immediately, any contact with sea-water by your laptop or cell phone is usually a death-knell for your devices. Whatever you spill on your device, bring it by. we'll open it up and scan your components to make sure that there's nothing left on them and there's no damage, and if there is we'll clean it and repair the damage, and make sure your device is safe to use again.
Available When You Need Us
When you have a computer emergency, it's our emergency. Our technicians are standing by to help you with your emergency computer repair needs.
Even when we're not open, technicians are available to answer your repair questions over the phone.
Bring your computer in for a free estimate or we can come to you with immediate attention to take care of your needs right away!
Service Area
When you have an emergency, time is of the essence. LaptopMD+ offers emergency repair service at our Midtown New York offices between 7th and 8th avenues, across from Penn Station – conveniently located near the A, C, E, 1, 2, 3 trains at Penn Station and the N, R, Q, B, D, F, and M trains at Herald Square.
If you can't come to us, we'll come to you: our central location gives us the ability to be anywhere in New York City in less than an hour.
When it comes to your emergency, New York's trusted Laptop Doctors are ready to make sure your business is up and running as soon as possible!
| Region | First Hour | Each Additional Hour |
| --- | --- | --- |
| Manhattan | $150 | $120 |
| Queens | $150 | $120 |
| Brooklyn | $150 | $120 |
| Bronx | $150 | $120 |
| Staten Island | $150 | $120 |
| New Jersey | $150 | $120 |
| Remote IT Support | Free Estimate | |
*Price for 1st hour includes a full diagnosis of the problem before work is started.
Need Computer and Laptop Service?
We got your back. LaptopMD's engineers will help you with all of your tech needs. Submit your information to receive a free quote.