Computer Monitor Repair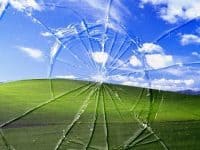 Computer screens (a.k.a monitors) are less fragile than their laptop counterparts, but are not bulletproof. Computer screens can have all sorts of problems come up, from burned out backlights to broken power supplies to artifacting (those annoying green boxes that occasionally pop up). The technicians at LaptopMD+ have been doing Computer Monitor Repair since the days of cathode ray tubes, and can take apart and reassemble an LED backlit monitor in less than an hour. So if you're having monitor issues, bring it in, we'll show you why we're considered the fastest, most reliable Computer Monitor Repair in NYC.
Or just fill out our online quote form to get a free diagnosis and estimate on your computer screen repair!