iDevice and Tablet Repair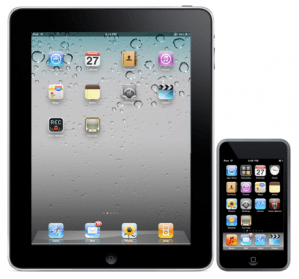 Ahh the elegant iDevice.They're shiny, they're gorgeous, they're encased in fragile glass that can shatter at the worst time. We are, of course, talking about iPads and iTouches. Even though the Corning Gorilla Glass that apple uses for the front displays is supposed to be near indestructible, we know better because we see people coming in for iDevice repair every day. While the most common iDevice repair issues we see, are broken screens. iPod touches also have known battery and home button issues.
We service all generations of iPads, from the first one released to the newest model. For iPod touches, we can work on all except the 1st gen. All of our parts are as close as you can get to an Apple genuine part without being an Apple employee, and every single iDevice repair we do comes with a 30 day warranty to make sure you're satisfied. Give us a call, or stop in today for your iPod touch or iPad repair. We will show you why we are the best iDevice repair shop in Midtown Manhattan NYC
Fees and Estimates
LaptopMD
Staples
Best Buy
Apple
Turn Around Time
Same day\Next day
Available for most repairs
3-4 Days
3-4 Days
2-3 days
Same Day Service
$45
Available on most repairs
No
$100
Depends on location
Price
$175-$200
Not included for specific, time intensive repairs
$69
$69
—
LaptopMD has been a staple of the New York technology community for over 15 years. We've successfully serviced every major device in that time, including tablets. Let us provide our industry leading service for you and fix your tablet! At LaptopMD, we simply deliver the better, faster service than competitors. Whether your screen is cracked, or your home button doesn't work we'll cure anything that ails your tablet!
Don't try this at home
Many people believe the do-it-yourself YouTube market will allow them to fix anything ailing a tablet but the truth is tablets are highly complex devices. One false move will turn an expensive machine into a paperweight.
Leave it to the pros! Whether you have insurance or not, ensure your tablet is in good hands with our industry certified engineers! We believe in personalized service catered to the customer. Much of our clientele are repeat clients because they believe in our approach. We strive to deliver fast, affordable service with a free "while you wait" estimate!

Have any specific questions about price, turn around time or working hours? Ask us via Live Chat. There you have it, whatever ails your tablet, we can cure! Call, e-mail, or walk right in today to have your tablet serviced by the best engineers in New York!
---
Tablets Repair
Additional types of repairs we offer in this category: