iPad Repair in NYC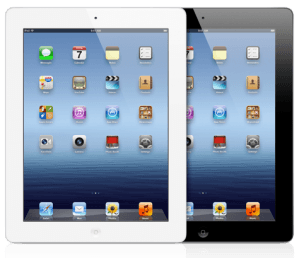 iPads are wonderful devices with what seems like miles and miles of gorgeous, glass real-estate on the front. Unfortunately, they're also fairly fragile, despite Apples best intentions. From broken iPad screens to bent iPad frames, the simple fact is that iPads break quite easily. Not a day goes by when someone doesn't run into our offices for an iPad repair.
The iPad doctors at LaptopMD use only the highest quality parts in all of our iPad repairs, and offer a 30 day warranty on every fix. If you don't like the iPad repair, you don't pay. We service 2nd Gen iPads, 3rd Gen iPads, iPads Air and iPads Mini.
That being said, there is a very important caveat that goes along with any iPad repair:
Your glass might not sit completely flush with device. Unfortunately, the aluminum case is very pliable, and can be bent out of shape easily in a drop or bump. We try our best to straighten it out, but it's not always possible to do 100%. The functionality of your iPad will be unaffected and it will work good as new, however under close inspection it might not look as perfect as it does out of the box.
Fees and Estimates
LaptopMD
Staples
Best Buy
Apple
Turn Around Time
Same day\Next day
Available for most repairs
3-4 Days
3-4 Days
2-3 days
Same Day Service
$45
Available on most repairs
No
$100
Depends on location
Price
$99+
Not included for specific, time intensive repairs
$169
$169
—
So if you're one of the thousands of people that have dropped their iPad or otherwise broken it, give us a call, stop by, or scroll down to see our list of available iPad repairs, and trust the iPad doctors at LaptopMD+ to get your iPad back to work in no time.
---
iPad Repair
Additional types of repairs we offer in this category: