The Best Mac Screen Repair and Replacement In NYC
Macs are known for being stable and secure. Unfortunately, this doesn't stop Mac screens from breaking. Sometimes it's just a crack running up your screen, other times it's discolored blobs, and sometimes you can't see anything on your screen at all. Whatever issue you're having, LaptopMD+ can help. We are broken Mac screen repair experts, and we've been fixing Apple screens for a long time. If you have any specific repair and worry about the price tag, just visit us and ask for a free estimate.
If your screen is too far damaged to be repaired, our highly-trained and experienced Mac screen replacement technicians will simply install a new one. We can provide: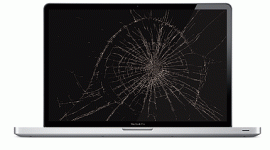 Macbook Screen Replacement
Macbook Pro Screen Replacement
Cracked Macbook Screen Repair
Cracked Macbook Pro Screen Repair
So when you need your Mac's screen repaired or replaced, come see LaptopMD+. We'll get it done quickly, cheaper than the competition, and we guarantee all Mac screen repairs for 30 days.

Have any specific questions about price, turn around time or working hours? Ask us via Live Chat.