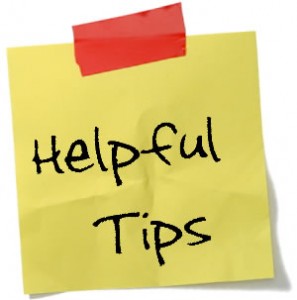 It's August and we've been focusing on back to school tips recently but, as you've noticed, digital back to school tips aren't necessarily just for students.  Practical back to school digital improvements such as efficient note-taking/storage and iPhone protection are for everyone.
In preparing for our digital back to school tips sections, a few weeks ago I came across an article from PC World about Going Back to School in the Cloud and I thought to myself – "this is a great guide to cloud computing that anyone can use".  There's a lot to talk about in this article but here are a few key take-aways in the areas of online office suites, online digital storage, and cloud based file syncing and sharing that will help you make better use of new (and old) technology.
Online Office Suites
Google Documents isn't the only player in town when it comes to offering web-based tools for word processing, presentation creation, and spreadsheet manipulation online.  Both Zoho and Microsoft are attempting to take on Google in offering additional computer applications in their online office suites:
Zoho – Zoho offers a whopping 27 different applications as part of their collaboration and productivity offerings.  In addition to the traditional word processing, presentation, and spreadsheet programs, Zoho give users (especially business users) a wide variety to choose from including wiki collaboration, project organization, and advanced bug/issue tracking.  Zoho also offers tight integration with Microsoft Office giving users sharing, saving, and integration features that Google Documents does not.  Zoho is great for users looking for a variety of services from one provider with exceptional Microsoft Office support and integration.
Pricing for Zoho services vary by product but they offer many of their personal services as limited featured, free trials.
Microsoft Office 365 – Microsoft's cloud based offering launched earlier this summer, as Microsoft Office 365.  Still in its infancy, Microsoft Office 365 offers Word, Excel, and Powerpoint viewing capability to users with limited/basic editing functionality with more expected in future releases.  Microsoft's online office suite also enables business users to take advantage of extended traditional Office features such as Microsoft Exchange, OneNote and Lync.
Even though it is currently limited in features, Microsoft 365 seems like a steal at $6 per month for their starting plan and shows that the software giant will become a bigger player in the future.  However, this service does not appear to provide the right fit for more advanced users who are looking for more in their cloud based office suite.
Online Storage
We've talked about how backing up your computer files is the most important thing you could do to make a major computer disaster cause less personal impact and speed up the transition to a new computer system.  Mozy is a great online backup tool that will automatically backup your computer on a regular basis to a cloud-based storage system.  BackBlaze is another online storage option which will backup your entire computer and allow you to remote in to see your stored files from any location at any time.
Both storage services offer varying plans starting at around $5-$6 per month.
Folder Syncing
Similar to online storage opportunities, folder-syncing services allow you to share specific folders and files on your computer without creating a mess with extraneous files or not wasting valuable (and pricey) web storage space.
Sugar Sync – SugarSync allows you to share files and folders across multiple devices so you can access and make edits to the same file from your work or home computer (or vice-versa) without the worry of multiple versions, duplicate copies or a clogged inbox.  SugarSync allows access from multiple devices including your smartphone and offers advanced features such as remote file sharing and access.
Plans for SugarSync start at $4.99 per month with specialized storage plans for businesses as well.
SkyDrive – Microsoft's SkyDrive is a Windows Live component which allows you to store and share your Microsoft Office documents and photos.  SkyDrive is available free to all Windows Live/Hotmail users with 25 gigabytes of available storage.
PogoPlug – PogoPlug functions very similar to SugarSync (with the ability to access your files and folders from any location) with the exception that the PogoPlug is in fact a piece of hardware that connects directly to your internet router and shares files across the internet either from your desktop, an attached external hard drive, or a simple USB flash drive.
A PogoPlug drive is a one-time purchase of $40-$50 or a one-time $39 download for the software version which works as a program on your computer.
—
Share your online storage tips in the comments and ask me any questions you might have about these and other cloud-based productivity tools.