The Consumer Electronics Show, or CES for short, is a technology conference going on right now in Las Vegas, Nevada.  CES is an annual event where technology companies launch their products to generate buzz among consumers and the press as well as to feed the geek frenzy right after the holiday season.
It's no surprise this year that mobile technology is taking center stage with phones, tablets, and other devices leading the pack in overall discussion.  Here is a quick roundup of some of the more interesting mobile tech stories:
No Verizon iPhone, Yet…
It may be on everybody's technology wishlist this year but so far Verizon is mum on when they will be releasing Apple's iPhone on their wireless network.  According to CNN.com the moment at which an announcement would likely have been made, Verizon's keynote address, was void of any mention of the iPhone or Apple for that matter.  Even if the elusive question remained unanswered, Ivan Seidenberg, Verizon's CEO, still gave an interesting talk on the future of mobile technology.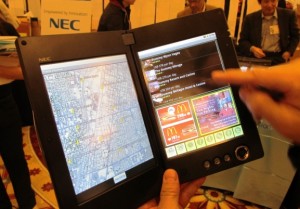 A Tablet Built for Your Commute
Maybe you're past the Verizon/Apple/iPhone hoopla already.  If so, an interesting product launch out of the CES is a tablet that reads like a book and fits in your bag or large pocket quite easily.  NEC's LT-W Cloud Communicator is an innovative Android device with a 7-inch screen which treats itself like the true digital equivalent to paper books.  As CNET notes this device will most likely revolutionize a person's commute in the coming month.  Personally, I'm really happy that this device is out as will make the reading process less clunky when you're on the train squeezed in between two people.
The Phone, Laptop, and PC in One Device
Motorola's Atrix phone showcases the growing ability of smartphones to act as a laptop and vice-versa.  The Atrix might well be the first device that combines the capabilities of a smartphone and the laptop in one product.  The phone can run multiple operating systems and also be connected to a monitor to essentially become a standalone desktop computer.
Excited about the new offerings from this year's Consumer Electronics Show?  Check CNET's CES Guide and be sure to come back to this blog next week as we will provide more indepth looks at other exciting new technology products.