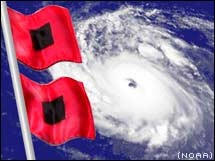 After being knocked around by this week's unexpected earthquake, Hurricane Irene is coming to New York.  Many of our staff members have weathered hurricanes before in Florida, North Carolina, and Mississippi and we've put together this short resource to make sure your technology weathers the storm with you.
With Irene aiming directly for New York City this weekend, here are some basic tips for us New Yorkers to prepare ourselves digitally for the highly inclement weather coming our way.
Add your comments to this open thread as we weather the hurricane together.  Stay safe New York!
Backup Your Data Offsite and to Your Email – Whether it's paper copies to put in your 'go bag' or a full-on offsite backup or file syncing like we recently talked about, NOW IS THE TIME to protect your digital life.
Upload important files and emergency contact lists to your email account and share them with your friends and family.  You'll be able to access them wherever you are from any computer but be sure to keep paper copies with you as well.
Know Your Passwords and Download Pertinent Contact Information – backup your contacts, passwords, and other pertinent information to your phone from your computer in case you lose access to your computer.  Keeping printed copies, just in case, isn't a bad idea.
Keep Your Devices Charged – Make sure that your devices are fully charged and that you have backup batteries for any devices which run off of battery power.  The electricity may go out so be prepared to ration computer and cell phone use due to a possible unknown outage period.
Protect Your Devices from Electrical Surges – New York City is no stranger to heavy duty storms but remember that surges can occur and short out electrical devices.  Keep your devices plugged in as long as possible but unplug them as soon as the storm hits.
Texts Will Come in Handy/Be Prepared for Bogged Down Networks – With an expected increased load on the cell networks, text messages may have a higher likelihood of getting through.  Communicate as much as possible with friends and family through texts if cell phone coverage becomes spotty.  Be aware that internet speeds will become much slower if local utilities are knocked out of comission – ration your bandwidth usage to conserve battery strength.
If the Electricity Goes Out – You can get more battery juice by shaking the flashlights.  Also, pack your refrigerator with food and keep it closed as much as possible.
Have you weathered a hurricane before like us?  Share your tech preparedness tips for Hurricane Irene in the comments.
Please note that if you are in need of repair service, LaptopMD will be open during regular hours on Saturday, 11am to 9pm, and (hopefully) on Sunday, 11am to 6pm, depending on exact weather conditions – Stay tuned to our Facebook page for up to date information on Saturday, Sunday, and early next week.
UPDATE x2 (8/29/11): LaptopMD+ is open normal hours for business – please contact us at 212-920-4833 or come in with your computer, iPhone, and laptop repairs.
On a more personal note, we wish our customers in the New York City area a weekend of safety and calm preparation in advance of Hurricane Irene.