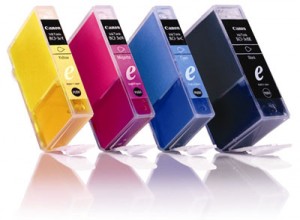 We would all like to save a few bucks when it comes to printing, right?  Between the cost of a printer and the ink cartridges themselves, a person or a small business almost has to take out a loan to cover all of the costs.
One of the 'tricks' that people use to circumvent the sometimes 'exorbitant' prices is choosing to buy third party ink cartridges rather than the manufacturer provided ones for your specific printer.  This is a risky process and can result in damage to the printer or cartridge, according to PC World's Serial 'Refiller'.
Another trick, from our own experience, is to rely more on laser printers rather than inkjet ones.  Laser printer toner goes much farther than inkjet cartridges do and is often more economical.  Since color ink for laser printers can be expensive, it helps to have an inkjet on standby for when you must absolutely print in color if you use a less expensive, blank ink only laser printer.
Tell Us: How do you save money on printers and ink costs?