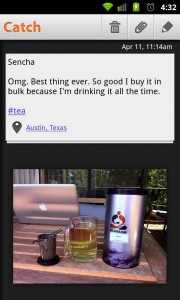 As I was researching and thinking about programs to include in my recent post on Essential Downloads for the Everyday Person, I ran across a small, yet promising iPhone/Android application which mirrors the simplicity of Evernote but brings a specialized feature to note taking that Evernote does not accommodate: note reminders.
Catch Notes is a simple and effective note taking program which allows you to take notes quickly and add reminders to your notes so you don't forget about them.  Reminders is one feature that Evernote lacks and is lacking although Evernote is still great for collecting and organizing vast amounts of data.
Catch presents the user with an easy to use application which turns your notes into task reminders and is built for the user whose note taking needs are short-term rather than long-term.
Learn more about Catch at PC World or download and try the app out for yourself online or on your iPhone, iPad, or Android device today.
What other task/note taking applications do you use on your smartphone or tablet devices?