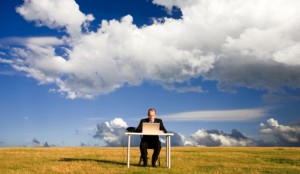 Continuing our series on IT advice for business professionals, today I want to share some tips and technology solutions that will help small business owners, freelancers, and ordinary professionals be more productive when you are working offsite.  New York City is filled with freelancers, musicians, and professionals who use Starbucks and other cafe spots as a means to get away from the office and remain productive.  While these places are convenient, they often lack in the right setup and environment that you need to work efficiently.  PC World recently wrote an article about tips to be an effective business professional even while you're at Starbucks but here are some tips from PC World and others to make your telecommuting gig work out, so you can be out of the office more and be more productive at the same time:
Sync your files with those at your office, so you always have what you need where you need it.  Consider using online and desktop based sharing services such as SugarSync and Pogoplug.  Both work similarly, letting you share your files from one central location online and through multiple device types, including smartphones.  However, PogoPlug offers an optional hardware component which allows you to access your external hard drive (or another USB device, like a flash drive or memory device) from the internet with just an Ethernet connection – no computer required.
Setup a Google Voice number that can automatically forward calls to your cell phone or to your office phone with minimal setup.   Give this number to your clients and they will always be able to reach wherever you might be.
Find the best location.  Yes, that latte may be appealing but get creative about where you setup shop.  Consider alternatives to Starbucks and pay attention to the various factors that provide the best ideal working environment for yourself.
Don't rely on the provided WiFi. Nothing is worse than relying on an internet connection that isn't working or is overloaded with 'freeloaders'.  Have a backup like the mobile hotspots we looked at in November available to use or tether your computer to your laptop via your smartphone.
Don't Let Your Computer Walk Away. PCWorld recommends that you buy a laptop lock for computers when your camped out at a coffee shop or cafe and you need to walk away.  These are good but also, consider LoJack Software For Laptops which will help you find your laptop if it is stolen away.
If you're still stuck in the stone age and the fax machine is what is keeping you at the office, consider subscribing to electronic fax service, like E-Fax, which lets you send PDF faxes from wherever you might be.
These are just a few points of advice for business professionals and people who want to telecommute more often from their favorite Starbucks and who find themselves in the middle of technological confusion when trying to get away from the office.  Tell us what we have missed or didn't cover and stay tuned for more business and technology advice and guidance.