Many consumers prefer large retail stores  when it comes to electronic device repair. We live in a world that's increasingly defined by large corporations promoting their presence and cajoling shoppers into believing quantity = quality. Many customers with broken laptops, phones and tablets genuinely believe that the big shop, with its brand name, should be their first stop for repairs.
This three part series presents another side to some of the leading consumer repair shops – BestBuy Geek Squad, Staples Easy Tech and the Apple Genius Bar — with published reports from former employees and feedback from disgruntled customers, so that the buyer may beware.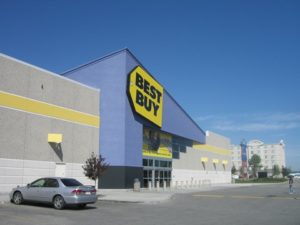 Do They Sell or Fix?
Many consumers fail to recognize that BestBuy is primarily a retailer and, by definition, not profoundly interested in servicing the devices it sells. Customers report that their onsite technicians are sometimes incapable of providing industry-standard repair.
If a customer brings a computer with a faulty motherboard to BestBuy, the onsitetechnicians may not be willing to do the soldering necessary to bring a laptop back to speed. One former Geek Squad agent reported to the website Consumerist.com that his manager explicitly instructed him that selling a new laptop was more important than completing the repair on a customer's existing laptop.
Many staff reportedly were hired and promoted thanks to their sales skills, and had little or no technical knowledge. Even when a customer would insist on repair, internal component repair couldn't be performed on the spot. As a result, devices would be sent to a repair depot for an indefinite amount of time.
There are reports of visual evidence of the Geek Squad's inability to resolve the most basic problems.
Underserviced and Overcharged
Another ex-Geek posted on Reddit.com that the company "ripped people off almost all the time." For example, a customer was charged $150 for an OS reinstall that's as simple as reinserting the disc you already have and clicking next. Even if an issue might be easily fixed within the existing OS installation (check our previous newsletter: How to Speed Up Your Computer In 5 Minutes), the Geek Squad would charge for a full reinstall, rather than repairing the existing system. The issue might be a few simple registry errors slowing down the computer speed or a virus that can be eliminated with commercially available anti-virus software; nonetheless, the Geek Squad would suggest a full OS re-installation.
Don't Pay for What You've Already Bought
In addition to performing expensive software installations instead of simple repairs, the Geek Squad protection plan is equally flawed. The $300 fee (for two years of service) is a hefty sum for what some consider to be a piecemeal insurance policy. The protection plan promises service for defective device materials or workmanship errors, but some manufacturers already offer this warranty with the purchase of their new equipment. The BestBuy preventative maintenance may appear to be an ironclad protection/preservation program, but it's simply a courtesy virus scan and vent cleaning that can be performed at home.
This deceptive service is redundant. Plus, the Geek Squad charges a fee simply to diagnose your device.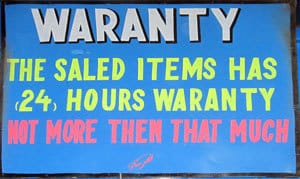 * original grammar saved
Word of Mouth
Consumers who conduct an Internet search of Geek Squad customer service will find countless complaints and few compliments:
"The most lousy service ever…They will take your money and not give you answers," reported on ConsumerAffairs.com.
"They were argumentative and hung up on me without talking or explaining to me". as posted in a BestBuy.com forum.
The Geek Squad service in Silicon Valley, the cradle of modern technology, has a two star rating and numerous complaints about customer service including "they are Crooks" on Yelp.com.
BestBuy Buyer Beware
Many consumers would prefer not to be charged for a diagnosis of their computer or electronic device. They are leery of a deceptive warranty plan and resent overcharges for simple services. They like to have repairs performed by trained technicians who treat them respectfully and courteously, not rude salespeople. When the convenience of the Geek Squad is placed in the context of these considerations, a dedicated electronics repair shop may be the better option.