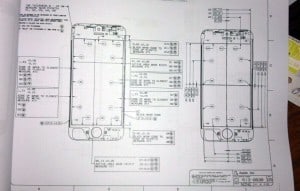 Not too long after Apple's post-Jobs CEO, Tim Cook, promised that Apple is tightening security around their product launches, it seems that detailed schematics of the new iPhone5's front panel have been leaked, and possibly by more than one person. First appearing in a blog by iLab, then arriving at the blog of non-approved iPhone App Store Cydia, and finally hitting MacRumors. And here they are now, in all of their blue-printed glory.
It seems that in the last couple of days/weeks the leaks and rumors have been flying fast, and coming together to form a more complete picture of the new iPhone design and specs. Granted, there is the usual hoopla by true believers who insist that every single one of these leaks are a clever plant by Apple to throw media and competitors off the real trail, but honestly that seems absolutely ludicrous at this point. Why? A couple of reasons: 1) Jobs was the real secrecy buff, and with him gone I imagine we will begin to see a big part of this culture of fear and secrecy fall apart. Without him there to bring down the wrath of god on any leakers, I think we'll start to see a decades worth of repression bubble up into sloppiness and intentional leaking. 2) Apple is a month to 3 months away from launching this thing. There's absolutely no point in throwing off competitors at this point, since no one can really do anything about anything at this point. And as far as the media, they get worked up into a frenzy every time an iPhone is launched. No need for PR stunts here. Lastly, over the last 3 or so product launches, we've seen that rumors and leaks that came within 1-3 months before the product launch were pretty solid.
So that aside, what does this mean for the masses of people who are probably lining up even now to get their hands on one? According to analysis of the schematics, it looks like rumors of a larger screen are true, though probably not nearly as large as some had hoped for. Apple appears to be upgrading to a 4.08 inch screen for the iPhone 5. The increase comes from a screen that is slightly taller but the same width, changing the aspect ratio to 16:9 from the 4S's 1.5:1. It's not a major shift, but should be enough for most iPhone fans. Otherwise, it looks like the phone itself will be about 7mm taller, including the silver metallic bezel introduced on the iPhone4. There have been plenty of rumors circulating about a thinner phone, however since these schematics are just for the front panel it's impossible to say from looking here.
All in all, it looks like the iPhone 5 will not be a radically redesigned form factor like the 4 was, but rather a few tweaks to bring it more into line with what are quickly becoming industry standards. It's not nearly as impressive as some of the Android devices coming to market, but that makes sense since Apple has consistently been about a generation behind in adopting new technology, instead opting to refine things that have already been market-tested. It's good news for people that love the shape of the iPhone 4, and not so good news for people who were desperately awaiting something brand new.
Disclaimer: We're not Apple, we don't work at Apple, and we don't work for Apple. That means that any information we present is an educated guess at best, and should not be used to make any major decisions. It could well be that these schematics are actually from a prototype phone that will never be seen outside of a secured basement somewhere in Cupertino.