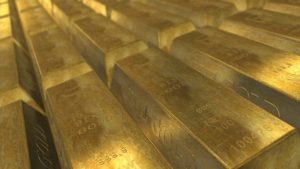 When Apple releases its Apple Watch in April, most of the world will fall over themselves to snag one. Apple's newest masterpiece will probably be treated like gold, especially the ones that are actually made of Gold.
Along with standard models with stainless steel casing, the brand has announced a "high-end "model made of 18 Karat gold. You would think this would be a rare, one of a kind model, bestowed perhaps to presidents and superstar entertainers to flout their importance, but Apple actually plans to mass produce these devices. They could retail for as much as $7500.
The company is sitting on a whopping $180 Billion dollars, and they're going to use a decent chunk of it if they follow through with their goals. According to the Wall Street Journal, Apple plans to make 1 million gold watches a month in 2015 alone.
If they continue that pace for the next year, that's 746 tons of Gold a year, or 30% of the world's annual gold production, according to an estimate by Apple TidBITS. Even for a Brand used to cornering the market, that's an insane number.