Smartphone Repairs in NYC
Choose your type of smartphone:
Cell Phone Repair in NYC
LaptopMD NYC techs can fix ANY phone in less than 1 hour. These devices contain tiny, fragile components, so smartphone repairs requires special training, tools and expertise. Brand-specific replacement hardware and parts are also necessary.
Due to the small size and complexity of mobile devices, smartphone repair in New York often proves necessary. However, a cellphone isn't something that you should try to fix on your own. Let's review the benefits of using LaptopMD's service: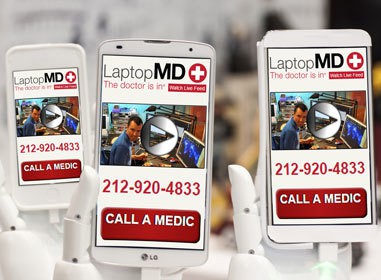 Qualified engineers ready to go the extra mile
Free Estimates
Fast repair while you wait (as fast as 25 minutes
Open late 6 days a week
Open til 8 o'clock on weekdays
Located in Midtown Manhattan near Penn Station
Our affordable smartphone repair service in the heard of New York City can have your smartphone up and running in no time.
Same day service
LaptopMD is a staple of the New York technology community. We've been in business since 1999, reverently covered in outlets such as Wall Street Journal, CNN, CBS, and Inc. magazine.
LaptopMD is your source for Smartphone repair in NYC! With service as fast as one hour, other services can copy the name, but not the reputation or quality! Our service has been a staple of the NY tech community for years because of our dedication and expertise with smart phones.
Perhaps you need to catch a flight or train from New York City tomorrow morning? Don't worry! We can expedite your order in exchange for an extra fee. We also fix iPads, iPods and accessories. There you have it, whatever ails your smartphone, we can cure! When your mobile phone's buttons stop working or the screen won't light up, remember to contact us for New York expert assistance via live chat, email or phone for your smartphone repair NYC.
Click Icons To Learn More About Us
Smartphone Repair
Additional types of repairs we offer in this category: