iPad / iTouch Repairs
Help…My iPad or iPod Touch isn't working!
They're shiny, they're gorgeous, they're encased in fragile glass that can shatter at the worst time. We are, of course, talking about iPads and iTouches. Even though the Corning Gorilla Glass that apple uses for the front displays is supposed to be near indestructible, we know better because we see people coming in for iPod and iPad repair every day. While the most common issues we see are broken screens, iPod touches also have known battery and home button issues.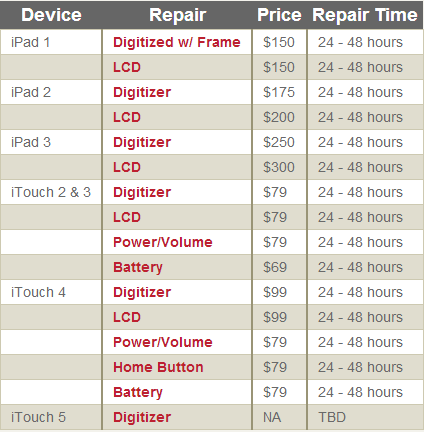 We service all generations of iPads, from the first one released to the newest model. For iPod touches, we can work on all except the 1st gen. All of our parts are as close as you can get to an Apple genuine part without being an Apple employee, and every single repair we do comes with a 30 day warranty to make sure you're satisfied. Give us a call, or stop in today for your iPod touch or iPad repair.