Laptop Graphics Card Repair
Without a graphics card, your laptop quickly becomes little more than a high-priced paper-weight, or an ultra-slim and sub-optimal desktop (assuming you have video out and an external monitor). And unfortunately, most laptops are still not built with snap-in/snap-out graphics cards like a normal computer. That means when you need laptop graphics card repair, you have to mess with tiny screws, statically charged disasters waiting to happen, and the headache of trying to remember which piece fits where. Instead, when your laptop graphics card breaks bring it in to LaptopMD+. Whether your screen is blank, blotchy, or simply showing a horrible resolution, our technicians can get that card out and fixed and back in again, just in time for your big Call of Duty marathon.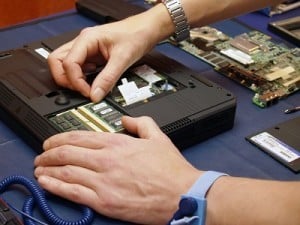 It's crystal clear: the better your graphics card, the better your laptop performs
Need Computer and Laptop Service?
We got your back. LaptopMD's engineers will help you with all of your tech needs. Submit your information to receive a free quote.