Managed IT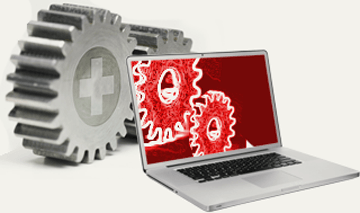 We'll be there, on schedule.
According to Salary.com, the median salary for a business IT professional in NYC is $70,000 a year – not including non-wage compensation, which averages an additional 30%! That's a lot of money, especially for small businesses whose IT needs are few and far between. And apart from the direct cost, managing an IT department takes time away from the parts of your business that directly impact your bottom line. Instead, let LaptopMD+ take over your IT needs with our managed IT service. Managed IT means we get to worry about making sure your electronic assets are working, and not you. That lets you focus on the things that make your business great. Instead of paying one employee to be on-hand, waiting for something to go wrong, you can get a diverse team of experts – and pay significantly less. Amazing service and expertise when you need it (and only when you need it). Cheaper, faster turnaround (experts fix things faster!), and less management overhead: That's the LaptopMD+ Managed IT difference!
Available When You Need Us
When you have a computer emergency, it's our emergency. Our technicians are standing by to help you with your emergency computer repair needs.
Even when we're not open, technicians are available to answer your repair questions over the phone.
Bring your computer in for a free estimate or we can come to you with immediate attention to take care of your needs right away!
Service Area
When you have an emergency, time is of the essence. LaptopMD+ offers emergency repair service at our Midtown New York offices between 7th and 8th avenues, across from Penn Station – conveniently located near the A, C, E, 1, 2, 3 trains at Penn Station and the N, R, Q, B, D, F, and M trains at Herald Square.
If you can't come to us, we'll come to you: our central location gives us the ability to be anywhere in New York City in less than an hour.
When it comes to your emergency, New York's trusted Laptop Doctors are ready to make sure your business is up and running as soon as possible!
| Region | First Hour | Each Additional Hour |
| --- | --- | --- |
| Manhattan | $150 | $120 |
| Queens | $150 | $120 |
| Brooklyn | $150 | $120 |
| Bronx | $150 | $120 |
| Staten Island | $150 | $120 |
| New Jersey | $150 | $120 |
| Remote IT Support | Free Estimate | |
*Price for 1st hour includes a full diagnosis of the problem before work is started.
Other Things You Should Know
We provide several different plans to the meet the varying size of your company. We understand that there is no 'one size fits all' solution for outsourcing your company's IT needs. We'll work one-on-one with you to develop the best plan that includes flexibility should your needs increase or decrease.
We live and breathe IT. Whether it's networking, hardware setup and configuration, software troubleshooting, printer repair, resource planning or something else – you can rest easy that you're not replacing your IT needs with a support company, you're substituting your IT needs for real, legitimate IT techs who are available when you need us the most.
We're available by phone as well as for onsite support. When your business is open, so is ours. Call us and speak with one of our technicians over the phone. If the phone call isn't enough, before we come and visit you, we can login to your computer remotely, bringing support to you instantaneously.
Need Computer and Laptop Service?
We got your back. LaptopMD's engineers will help you with all of your tech needs. Submit your information to receive a free quote.