Premiere NYC Pickup-and-Delivery Repairs
Pickup and Delivery to Your Office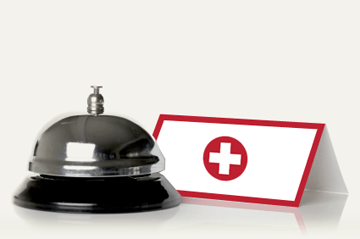 LaptopMD+ offers businesses and individuals our Premiere Concierge computer repair pickup and delivery service. As part of New York City's class of busy business professionals, we know that after a long day at work, the last thing you want to do is spend time running errands all night long. With LaptopMD+'s Concierge Service, we do all of the heavy lifting to get your computer, laptop, or other device repaired on your schedule, when you need it.
We'll pick the device up from you, repair it, and deliver it back to you! Available anywhere in Manhattan, our Concierge Service includes pickup from 8am to 1pm and delivery between 4pm and 8pm for most repairs.
If you are looking for a faster repair, consider our onsite iPhone repair service and we'll do the repair while you wait. We offer rush service on select repairs; call and ask if same day service is available for your job.
Make an appointment with the laptop doctors and we'll get you scheduled right away!
Concierge Service on Your Schedule
It's 10pm – your personal computer crashes and you can't turn it on. You want it fixed by tomorrow night but you have a daylong presentation that is going to keep you in the office from 8am to 7pm .
What do you do?
LaptopMD+'s concierge service brings the computer repair shop to you. Let us pick up your device, repair it, and return it to you the same day* at your office. If it's a simple problem, like iPhone repair, our technicians will come to your location and repair the device on the spot – no waiting.
Let us do the legwork between our office and yours so you can get on with your day.
Service Area
LaptopMD+ offers concierge computer repair pickup and delivery services in New York City for the entire Borough of Manhattan, Monday through Friday. Pickup is available all day (8am to 8pm) but computers and devices must be picked up between 8am and 1pm for same day service (if applicable).
Delivery is available all day (11am to 8pm), depending on work completion. All jobs with same day repair will be delivered between 4pm and 8pm, pending job completion, available for next day delivery or same day pickup at our Midtown New York location until 9pm.
Worried we won't get to you soon enough for your needs? We guarantee pickup within 1 hour for a nominal fee. Speak with a manager today!
(Please note that delivery is subject to scheduling and availability of completed repair job.)
| Region | Pickup and delivery to home/office | Pickup at home/office w/ in-store pickup | In-Store drop off w/ home/office delivery |
| --- | --- | --- | --- |
| Midtown – Between 59th and 14th Streets | $30 | $15 | $15 |
| Downtown – Below 14th Street | $40 | $20 | $20 |
| UES/UWS – Between 100th and 59th Street | $40 | $20 | $20 |
| Uptown – Above 101st Street | $70 | $40 | $40 |
*additional charges may apply for desktops.
Other Things You Should Know
LaptopMD+'s concierge computer repair pickup and delivery service is a premium option for busy business professionals in New York City. Here are some important things you should know about the service:
All computer repair pick-ups or drop offs must be made by or scheduled before 1pm in order for repair work to be done same day (depending on parts and repair availability), and ensure delivery by 8pm. Jobs received after this time can be picked up at our in-store location before we close at 9pm daily.
All appointments must be scheduled prior to the start of the business day for same-day service (all other same-day appointments must be made via phone during our normal business hours and subject to scheduling availability).
Same-day service availability is dependent on the availability of parts. You will be contacted by a LaptopMD+ manager if we are unable to do the repair same-day and notified when the repair will be done before we do any work. If we are unable to provide same-day service and you choose to have your computer back without repair work we will charge a nominal $25 service fee for handling and return the computer back to you.
In-store drop-off (in the morning) or in-store pick-up (in the evening) is available at different rates for same day repair.
Rush pickup is always available between 8am and 8pm. We'll come to you and get the repair started as quickly as possible!
Concierge service is only available Monday through Friday although our offices are open on Saturday and Sunday. Thank you for understanding and giving our messengers a day off!