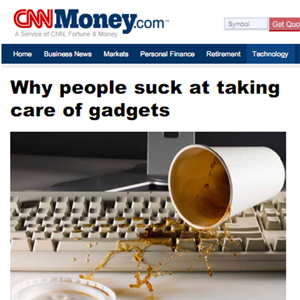 We've made the news again! Following in the footsteps of such exciting developments as being featured in the Wall Street Journal, recommended in Time Out New York, and being interviewed on WPIX-11, we have one more notch to put on our belt.
Our intrepid founder, Arthur Zilberman, is quoted for a CNN Money tech blog about the importance of backing up data and why electronic gadgets just don't seem to last as long we think they should. Highlights include:
"People have to remember that computers are machines — their parts wear out like the tires on a car," says Arthur Zilberman, owner of Manhattan repair shop LaptopMD.
and
"We have people coming in crying every single day over losing term papers and photos," Zilberman says. "They pay thousands of dollars to try to retrieve their data. If everyone backed up, we'd have a lot less business."
and many more. Check it out by going here for the PDF version or here for the original blog post.
And backup your data. But not too often, or we'll go out of business and you'll miss seeing our awesome blog posts.