Network Installation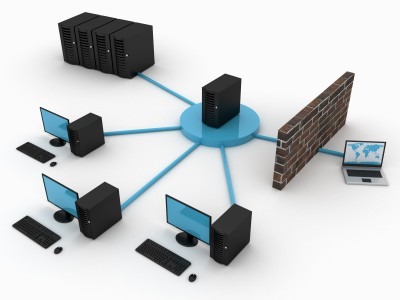 We make your network "just" work.
The wired home has been a dream of tech visionaries and consumers alike for over a decade now. We've been serenaded with descriptions of being able to watch tv and have new emails pop up in a little information box right on the screen. Of having one location for all of our favorite music and being able to listen to it from any room in the house. Of simpler things like having one printer and using it wirelessly from your laptop in the living room while your kids print their book report from the desktop in their bedroom. Unfortunately, reality has not been quite so kind. For all the advances we've had, networking still remains technical and confusing, stumping most people from effectively making use of their home network, assuming they were able to set it up in the first place.
The situation is even more grim for businesses. Despite being an integral part of the business world since the early 90s, business networks are still incredibly complicated and full of potential snags, surprises, and problems. For all the good they do, the need to keep a large and highly-paid IT department on staff often drains company budgets, and makes having an advanced and efficient network unattainable for many small businesses. Who can afford a staf of 3 or 4 IT technicians making $80k a year these days?
Enter LaptopMD+. Our technicians are versatile and proficient enough to handle everything from setting up a home wireless network with full media server, remote printing, information-sharing and other bells and whistles, and can effortlessly switch over into business mode to make sure your small business exchange server is co-operating with your web server which is playing nice with your firewall, and still allows your sales team in Tuscaloosa to remote in to update your customer database and place sales orders.
Our technicians are fully industry certified, and take the utmost care to make sure that your network, home or office, is as secure as it is efficient. Best of all, we offer flat hourly rates or retainer agreements, ensuring that you are not paying us unless we're working on making your IT infrastructure work better. This flexible payment structure allows small businesses access to the same high-powered IT staff on call as the big guys, without having to pay high-powered IT staff salaries. So your office works, and you're not throwing money out on people who spend most of their time sitting around and waiting for things to go wrong.
Available When You Need Us
When you have a computer emergency, it's our emergency. Our technicians are standing by to help you with your emergency computer repair needs.
Even when we're not open, technicians are available to answer your repair questions over the phone.
Bring your computer in for a free estimate or we can come to you with immediate attention to take care of your needs right away!
Service Area
When you have an emergency, time is of the essence. LaptopMD+ offers emergency repair service at our Midtown New York offices between 7th and 8th avenues, across from Penn Station – conveniently located near the A, C, E, 1, 2, 3 trains at Penn Station and the N, R, Q, B, D, F, and M trains at Herald Square.
If you can't come to us, we'll come to you: our central location gives us the ability to be anywhere in New York City in less than an hour.
When it comes to your emergency, New York's trusted Laptop Doctors are ready to make sure your business is up and running as soon as possible!
| Region | First Hour | Each Additional Hour |
| --- | --- | --- |
| Manhattan | $150 | $120 |
| Queens | $150 | $120 |
| Brooklyn | $150 | $120 |
| Bronx | $150 | $120 |
| Staten Island | $150 | $120 |
| New Jersey | $150 | $120 |
| Remote IT Support | Free Estimate | |
*Price for 1st hour includes a full diagnosis of the problem before work is started.
Need Computer and Laptop Service?
We got your back. LaptopMD's engineers will help you with all of your tech needs. Submit your information to receive a free quote.