The times are always changing. For the modern small business or tech savvy consumer, out with the old in with the new is literal. Once you purchase the new Windows PC on the market, what will you do with the obsolete model?
Many may not know a better alternative than to simply toss their old computers, laptops and phones in the trash. As the saying goes though, one person's trash is another's treasure. There are recycling programs all over the city, as well as initiatives to
turn those electronics into art.
Before you give your device away, have you considered re-purposing the electronic altogether?

Don't throw it away!
The first thing that should be understood is simply throwing away a computer isn't a good proposition! Not only is it pretty bad for the trashman's back, it's unhealthy for the environment! In the UK, it's illegal to even throw old electronics in the trash, and for good reason. The vapors and emissions from the electronic pollute the air. In addition to environmental concerns, if your device is functional you will be vulnerable to identity theft. Who knows who wants to get into your computer and check out the data you left on it!
Rather than throwing it away, recycling is the best thing to do if you want to simply be rid of your electronics. There are plenty of major programs in the New York area, including eCycleNYC. If by chance you live in another area and you've come across this, BW Recycling takes used electronics from Nationwide. Visit them at www.webuyics.com.
If you're feeling creative, visit your local community center and see if they know any creatives who take old electronics! They may turn your old device into something like one of these images: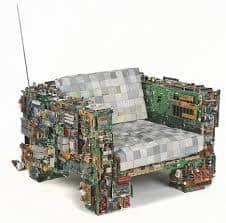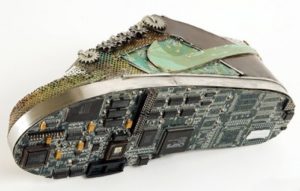 In fact LaptopMD has their very own robot made from old computer parts. A kind client went to her art studio and devised it: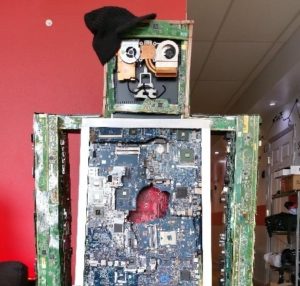 Re-Purposing
Recycling may not always be the best idea though. Did you know for instance that your old PC could make a pretty effective server? Xbox and Playstation users can put XBConnect on their old PCs and trick their console into believing it's on the Sony or XboxLive network! Visit XBConnect.com for more info.
If you have simpler needs for a small business server, that's doable as well. Surf the net or visit geekyprojects.com/nas/build-your-own-nas-using-freenas/ for a step by step tutorial of how to customize your own RAID array.
Here are some cool examples of re-purposed electronics: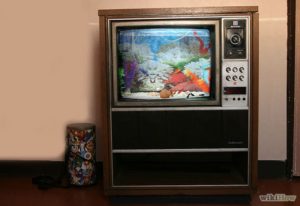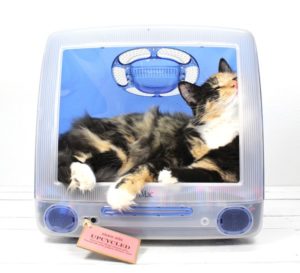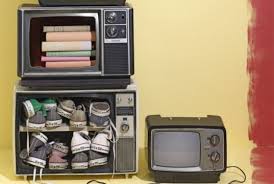 In short, there are many ways you can make use of your old tech. An old laptop may not be of much use in one incarnation, but using your imagination can open up a wide range of possibilities!