Onsite Computer Repairs in New York City – We Make House Calls
Near or Far – We Make House Calls
If you can't make the trip to our Midtown office, the laptop doctors at LaptopMD+ will make house calls to your business or home, whether you're in New York City or New Jersey. When LaptopMD+ comes to your business or home we're bringing with us trust that is backed by the Better Business Bureau and reviews from people like you. You have a busy life, so we won't waste any time. When we make house calls, you're getting trust and experience from technicians who can do any type of repair job. Whether you need help with a computer network setup, iPhone repair, computer/workstation installation or even a printer replacement, our technicians have the training you require. And if it's an easy problem, we can even remotely login to your computer and help with the small things like iTunes syncing, email setup, and internet browser protection.
Geo-Targeted Support
LaptopMD+ brings its reputable and trustworthy computer repair service right to your home or business. We are located, conveniently, within an hour or less of all points in New York City and can be at your Midtown or Downtown New York office/business in less than 30 minutes.
How far will we go?
We'll go the extra mile for you both literally and figuratively – when we come to your place of business or home our repair technicians bring the same customer service you get at our office as well as the trust and reliability you can depend on.
Service Area
Let's face it: you need help on your schedule.
Our repair technicians are able to solve the when and the where problems of your repair needs which means that you can rest easy while we take care of the entire repair problem.
We provide onsite repair service to all five boroughs of New York City including Manhattan, Queens, Brooklyn, Bronx, and Staten Island. We're located in Midtown Manhattan meaning we're no more than an hour away from you and same day support is always available!
No lines, no waiting rooms, and no worries – our certified repair technicians are there when you need us and if you're inaccessible for some reason, we can offer you the option to connect to your computer and fix the problem remotely.
| Region | First Hour | Each Additional Hour |
| --- | --- | --- |
| Manhattan | $150 | $120 |
| Queens | $150 | $120 |
| Brooklyn | $150 | $120 |
| Bronx | $150 | $120 |
| Staten Island | $150 | $120 |
| New Jersey | $150 | $120 |
| Remote IT Support | Free Estimate | |
*Price for 1st hour includes a full diagnosis of the problem before work is started.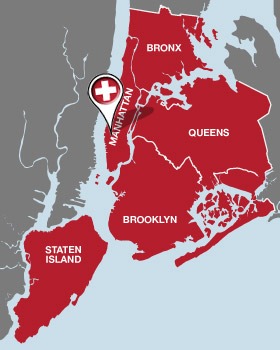 Other Things You Should Know
Here are some important notes about LaptopMD+'s onsite repair services:
To guarantee same day service, you must schedule an appointment by 12pm. If you schedule after 12pm we can guarantee service the next morning, if not earlier.
We're available 6 Days a week. For weekend onsite service you must schedule your appointment by 5pm on Friday afternoon.
Most repairs can be done onsite but some repairs may require specialized attention. Our managers will help alleviate these issues when you call us and will make sure that everyone is on the same page. If work must be taken back to our office for repair or if additional parts are needed to complete the repair, we will prorate the onsite support fee.
The onsite support rates do not cover the cost of parts. We will provide a free diagnosis and additional costs will be confirmed onsite by the repair technician.
You may notice that we charge slightly more than Best Buy and Staples for onsite support and the reason is simple: we'll do it in less time and provide a higher value than our big box store competitors. Almost half of our onsite visits come from clients who have already spent hundreds of dollars with the Geek Squad to be back at square one. And time after time we fix what they couldn't – and in half the time.
We can repair more than just laptops and computers when we come onsite to your business or residence. LaptopMD+'s technicians can repair your iPhone, setup your computer network, or configure a domain controller server to bring an entire department online. We also provide onsite support for software issues including program installation, computer training, and other digital lifestyle needs.
We understand if you're leary of letting strangers in your home – we are too. We surely wouldn't invite someone from Craigslist into our home without first checking their credentials. We're backed by the Better Business Bureau and hundreds of customers like you have shown their praise for the work we've done. Learn why LaptopMD+ is a notch above the rest and review our credentials for yourself. We'll be right here when you're ready for us.