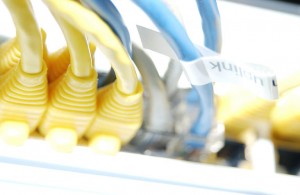 Throughout the month of May, LaptopMD is taking an indepth look at business IT management and showing you how you can leverage technology and related repair problems in a better manner for your company using less resources – whether it's with us or on your own.
To kickoff our series, I want to share with you a relevant and noteworthy article I recently read in Entrepreneur Magazine titled "Kicking IT to the Curb" which outlines factors that should be taken into consideration by companies when thinking about outsourcing an IT department to a third party company.
Here is some advice to small business owners from Entrepreneur Magazine and LaptopMD:
Be aware of the type of Service Level Agreement (SLA) you need to have in place with the third party company.  These are essentially documents that protect both you, as a business owner, and the company involved from ambiguous expectations that result from the quality of service that is delivered.
Understand what your needs are as a company (in metrics, delivery of services, scope and size of services, etc.) and make sure your company is protected by penalties and other protection mechanisms to maximize your company's 'uptime'.

Understand that the size of the small business will dictate the levels of needed outsourcing.  A smaller business has different needs than a larger business does and the right third party company will be able to offer a tailored approach rather than one that appears to be 'one size fits all'.
Focus your selection of a third party company on your needs as well as the specialties that the third party offers.

Recognize the variety of available services and different niche areas which can be of benefit to your small businesses.  Many small businesses, even those with a few employees, have specific areas of attention and not all third party services will give the same attention/quality of service to a specific area (like Microsoft Exchange support) as others might.  Most third party companies have their own specialties but offer 'complimentary' services as a means to round out their portfolio.  Recognize a company's strengths in your research.
Sometimes IT outsourcing can be covered by multiple companies, depending where particular providers meet your needs and your price points.

Above all, compare pricing and establish a baseline across third parties.  Often times a particular third party may appear to have higher (or lower) prices that seem exorbitant or unreal but many times these prices reflect that third party's particular niche and would be a worthwhile investment based on your needs.
Often times, the smaller outsourcing companies can work with you on a better deal than the larger places, like Staples and Best Buy, since the larger ones price based on an average rate and smaller companies tailor their pricing to your needs.
Be sure to read the full article from Entrepreneur Magazine and keep watching our blog throughout the month of May for more articles on business IT support, advice, and improvement.