Laptop, Computer and iPhone Repair Service in New York City
Walk-in and Drop Off – Seven Days a Week
LaptopMD+ is New York City's leader in convenient, affordable, and quick laptop, computer, and iPhone repair. Located in the heart of Midtown Manhattan, at 247 West 38th Street – 6th Floor, LaptopMD+ also offers data recovery services, onsite and remote support, as well as our exclusive Medic Concierge service.
LaptopMD+ is open 6 Days a week for your convenience! We understand what it means to be a busy professional or student in need of trusted computer and laptop repair in New York City which is why we pride ourselves on maintaining a level of excellence recognized by both our customers and the media.
Stop by at anytime (No Appointment Necessary) and one of our certified repair technicians will provide you with a free repair diagnosis and estimate before any work is done in a quick and responsive manner that allows you to focus on your schedule, not ours. We'll give you the full estimate ahead of time so you can make the best decision if you're unhappy with the price. Unlike the big box shops, most repairs at LaptopMD+ can be done with same day service by our local repair technicians. Stop by and let us help you!
Worry Free Repair
We get it. Your computer is important to you – it's your baby and sometimes it's your lifeline to the outside world.
When you drop off your computer with us you can rest assured that we are going to take the utmost care of your computer and make sure the repair happens as quickly and safely as possible.
Our repair technicians are trained for every sort of repair, are industry certified, and bring to bear a cumulative 25+ years of repair experience when we're working on your computer.
Service Area
Let's face it: you need help on your schedule.
Our repair technicians are able to solve the when and the where problems of your repair needs which means that you can rest easy while we take care of the entire repair problem.
We provide onsite repair service to all five boroughs of New York City including Manhattan, Queens, Brooklyn, Bronx, and Staten Island. We're located in Midtown Manhattan meaning we're no more than an hour away from you and same day support is always available!
No lines, no waiting rooms, and no worries – our certified repair technicians are there when you need us and if you're inaccessible for some reason, we can offer you the option to connect to your computer and fix the problem remotely.
| Region | First Hour | Each Additional Hour |
| --- | --- | --- |
| Manhattan | $150 | $120 |
| Queens | $150 | $120 |
| Brooklyn | $150 | $120 |
| Bronx | $150 | $120 |
| Staten Island | $150 | $120 |
| New Jersey | $150 | $120 |
| Remote IT Support | Free Estimate | |
*Price for 1st hour includes a full diagnosis of the problem before work is started.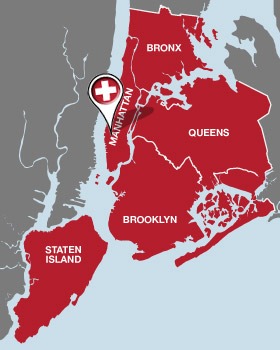 Other Things You Should Know
Here are some important notes about LaptopMD+'s onsite repair services:
Most repairs can be done same-day but others may take longer due to part availability and job complexity. Our managers will let you know when this isn't the case and provide service alternatives upon request.
LaptopMD+ is open 6 Days a week, all year round – even on most holidays!
LaptopMD+ is a block away from the A,C,E, 1,2,3 subways lines at Penn Station 34th St, as well as the F,B,D,M,N,Q,R lines at Herald Square.
How much does a Laptop repair cost?

LaptopMD+ offers free estimates on all repair services!
What Services Does LaptopMD+ Offer?

LaptopMD+ not only repairs laptops and computers but we also offer iPhone repair, data recovery and other related services. Check out our services page for a detailed listing of the services that we provide.
Do you offer repair service in areas other than New York?

LaptopMD+ offers onsite support in all five boroughs of Manhattan with additional support available in North New Jersey. Additionally, LaptopMD+ offers our unique concierge service to businesses and individuals looking to have their computer picked up and repaired below 100th Street in Manhattan. If you're located outside of New York City, you can use our nationwide mail-in service from any location in the country.