iPhone Screen Repair
Help…I Need My iPhone Screen Replaced!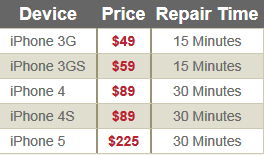 It might be made out of Gorilla Glass, but that doesn't mean you'll never need an iPhone screen replacement. Few things can ruin your day faster than a cracked or shattered iPhone screen. If you're brave, venture onto YouTube, find a video, and try to do it yourself. You'll probably end up with a couple screws left over and an iPhone screen that's spongier than underwater pineapple dwellers. Or you could take it to LaptopMD+: NYC's iPhone screen replacement pros. We've done hundreds of iPhone screen replacement repairs since Apple released the iPhone, and we guarantee the best iphone screen replacement at the best price in NYC. Best of all, your iPhone screen replacement is ready in 15-30 minutes, depending on model.