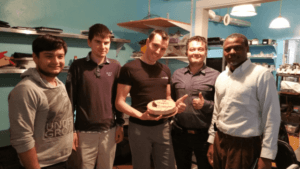 Last Thursday we celebrated the birthday of Zoltan, one of our best medics! We know, our engineers know devices so well you're not even sure sometimes, but we are human! We like to celebrate the special moments in our lives. The day was full of Pizza, chocolate cake, and chips. OK, they were motherboard chips to be replaced, but we still had fun!
Our engineers have traveled together, played paintball vs. rival services (and won), and even attended a Russian cabaret. There's no telling what fun we'll get ourselves into when we're not providing you excellent device repair. We have a live camera on our website, so the next time we have a party, check it out with us!
Random Trivia: Zoltan has an IQ of 155, has worked in antiquity repair for a brief period of his life, and was the "local Howard Stern" DJ in Hungary during the time that he lived in Europe.