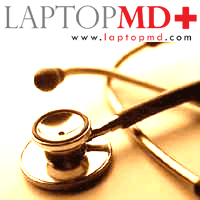 When you bring us your laptop, iPhone, or other computer device for repair we do not take the responsibility, you entrust us with, lightly.  We know that your computer is important to you and we treat every device as if it were our own.  LaptopMD is a laptop repair service center that has built its reputation on the prompt, reliable, and trust-worthy computer repair service provided to individuals and businesses in New York City and beyond for over 10 years.  Instead of the 'by the book' approach to service that bigger corporate entities provide, at LaptopMD we strive to provide you with personalized and prompt repair service, rather than asking you to unnecessarily spend more money, like the 'big guys' might.
Our customers know that they can trust us to be quicker and more reliable than similar services provided by Best Buy and Staples.  Unlike Best Buy and Staples, we will not sugar coat your repair problem, provide misleading repair information, ask you to 'upgrade' to a new computer (rather than fixing the actual problem), or expect you to wait more than one business day to fix most 'simple' computer problems.  These are all situations that many of our customers have experienced before they found us and we hope that you too will find out what LaptopMD has to offer.
When you come to our Midtown Manhattan repair center, our attention is fixed on you and your repair problem.  We provide a local, personal, and more reliable alternative to Best Buy's Geek Squad and Staples' EasyTech computer repair services.  Unlike Staples and Best Buy, we will provide you with a free diagnosis and estimate before you pay for any work.  Additionally, you will never be charged if the repair is unsuccessful – that's our "No Fix, No Pay" promise.  If you aren't happy with the price, you are free to take your computer with you elsewhere and you'll pay nothing for the help that we've already provided.  Most of our repair jobs can be completed in one business day (or less) and we aim to deliver on this promise.  Some jobs will take longer but we will be upfront and honest with you before you agree to the work.  You should not be without your computer any longer than what's absolutely necessary.  Providing customers with a three day repair period, like Best Buy does, in our opinion, is unacceptable.  We are open 6 Days a week and you can reach us 24 hours a day on the phone to get answers to any of your repair needs.  We aim to provide you with the best service possible.
At LaptopMD, we want to be an open book toward our customers.  Unlike our competitors, we link directly to our CitySearch and Yelp profiles from our homepage giving you the opportunity to review of our repair work (and easily see all of our past customer reviews).  We know we're not perfect and we don't mind placing our reviews in front of you because an overwhelming majority of our customers trust us to work on their computers – We hope that you will trust us as well.  If the original problem persists or you are otherwise dissatisfied with our work when you get your computer back, we want to work with you directly to remedy the situation.  We are always trying to provide better service and continue to meet the needs of our customers.
Come, visit us, and experience LaptopMD.  We strive to make our business with you as transparent as possible, because we know that you want to entrust your laptop only to the best repair company.